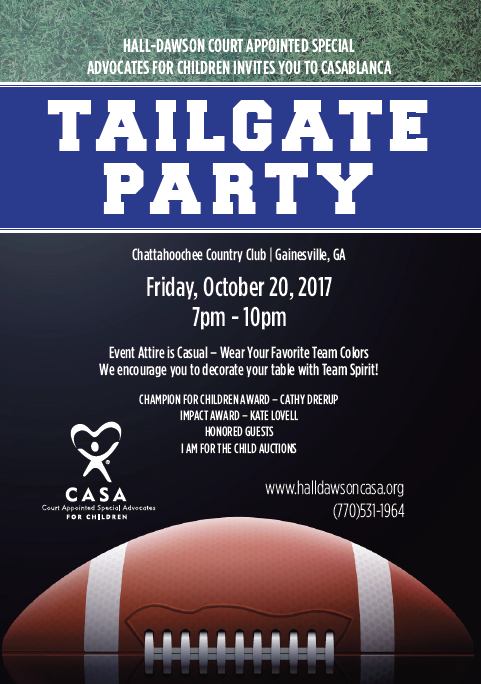 Don't miss our annual fundraising event, CASAblanca. This year, come out and join the fun at our Tailgate Party on Friday, October 20, 2017 at 7:00pm. The event will be held at the Chattahoochee Country Club in Gainesville, GA. Tickets are $75.00, including beer & wine. Tables of 8 can be purchased for $600.00. Show your team spirit by wearing your favorite team colors and decorating your table. A silent auction will be held, including many exciting items. A guest speaker will be featured telling a moving story about a youth's journey through foster care.  
The Champion for Children Award will be presented to an individual or organization who has dedicated their service to positively impacting abused and neglected children in Hall and Dawson Counties. The Impact award will be presented for outstanding work in the child welfare community.
Proceeds from the event will benefit the abused and neglected children served by the Hall-Dawson CASA Program. Thank you for your support! 
Registration for the event is now closed. Please join us next year for another exciting CASAblanca event. If you would like to make a donation to our organization in lieu of attendance, please visit the donation page by clicking HERE. Thank you!